At the heart of Dublin for
100 Years
Originally purchased by Edward (Ned) Hynes in 1913 for the princely sum of 2,000 pounds and it remained in the Hynes/Behan family for generations up until the early 1970's. The list of regular customers over the last 100 years is as long as it is distinguished, including Generals, Statesmen, Writers, Poets and the odd Rock Star all mixing freely with local faces. Owned and Managed by Tim and Wendy O'Connor the tradition of the last century continues with a warm welcome to all who pass through the doors.
Great Food
Whatever the occasion why not enjoy the company of great friends (or some new ones) here in O'Connors. We have an extensive food offering that includes menus for breakfast, lunch and dinner 7 days a week.
Pub Quiz Thursdays
The weekly pub quiz takes place every Thursday at 7:30pm and is free entrance. Test your brains and brawls against Mount Streets finest. Everyone has a chance to win as the categories change every week and vary from school subject to pop culture. There is also a prize given to one random entrant each week so anyone could be a winner !
Traditional Irish Music
Every Saturday at 8:30pm O'Connors hosts some of Dublin's best trad musicians. Each week sees a different cocktail of instruments and styles so every week is unique. Drop in to tap your feet, sing along, or even take part !
Book A Room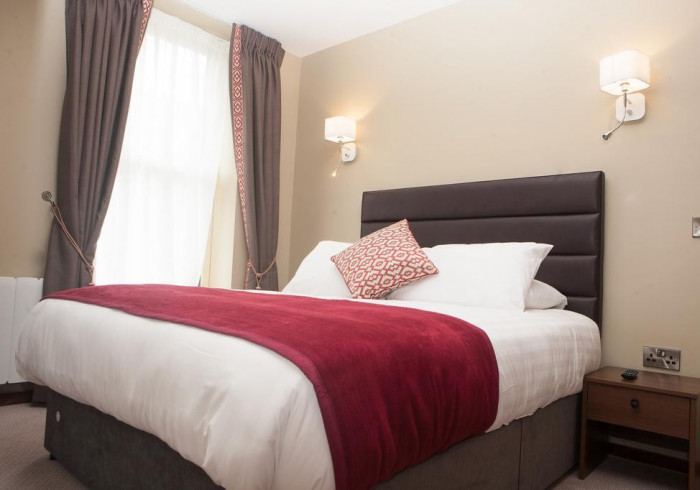 O'Connors of Mount Street is a bar full of character but blended into a modern setting, it serves quality food with friendly staff. The motto is "enter a stranger, leave as a friend". The bar is showcases traditional wood with modern lighting, it is littered with pictures of Dublin in the days gone by, and pays tribute to the characters that have graced the counter through the years.
The Draper Rooms is the ideal location, on a peaceful road but very close to the action of Dublin City. The casual rooms offer flat-screen TVs, tea and coffee making facilities, and complimentary Wi-Fi, as well as en-suite bathrooms.
Nil aon tinteaán
mar do thintéan féin
Translated from the Irish language simply as 'There's no place like home' that's exactly how we want our customers to feel when they arrive through the doors here in O'Connors.
We are located at Number 32 Lower Mount Street in the heart of Dublin City just a stones throw from Merrion Square. During the day Lower Mount Street is a busy city business district with major office complexes alongside some amazing eatery's, shops and more. Make sure to come in and visit us soon.
Irish Whiskey
Have a chat with any of our friendly bar staff to talk about your particular tastes and we are sure to find you the perfect bottle for you. You might also be interested to know that from time to time we hold whiskey tasting nights with some of the rarest bottles complimented with the great Irish names. Whiskey tasting night also make for a great staff occasion, night out or just a get together with close friends!

Shane Coghlan
Dublin - Via Facebook
Before of after a big game in the Aviva – there's no better place than O'Connors. It has been a regular pre-match meet up for the lads for pints for well over 15 years. We rarely go to a match without dropping in for afeed and our favoruite brew…
Make mine a...
Why not become a tiny part of our history and pop by for your favourite tipple or even dine with us for Breakfast, Lunch or Dinner any day of the week and of course we have live music every Saturday and Sunday from 6pm.